@Brian If I paste a list with extra white space in it discourse does a horrible job of formatting it.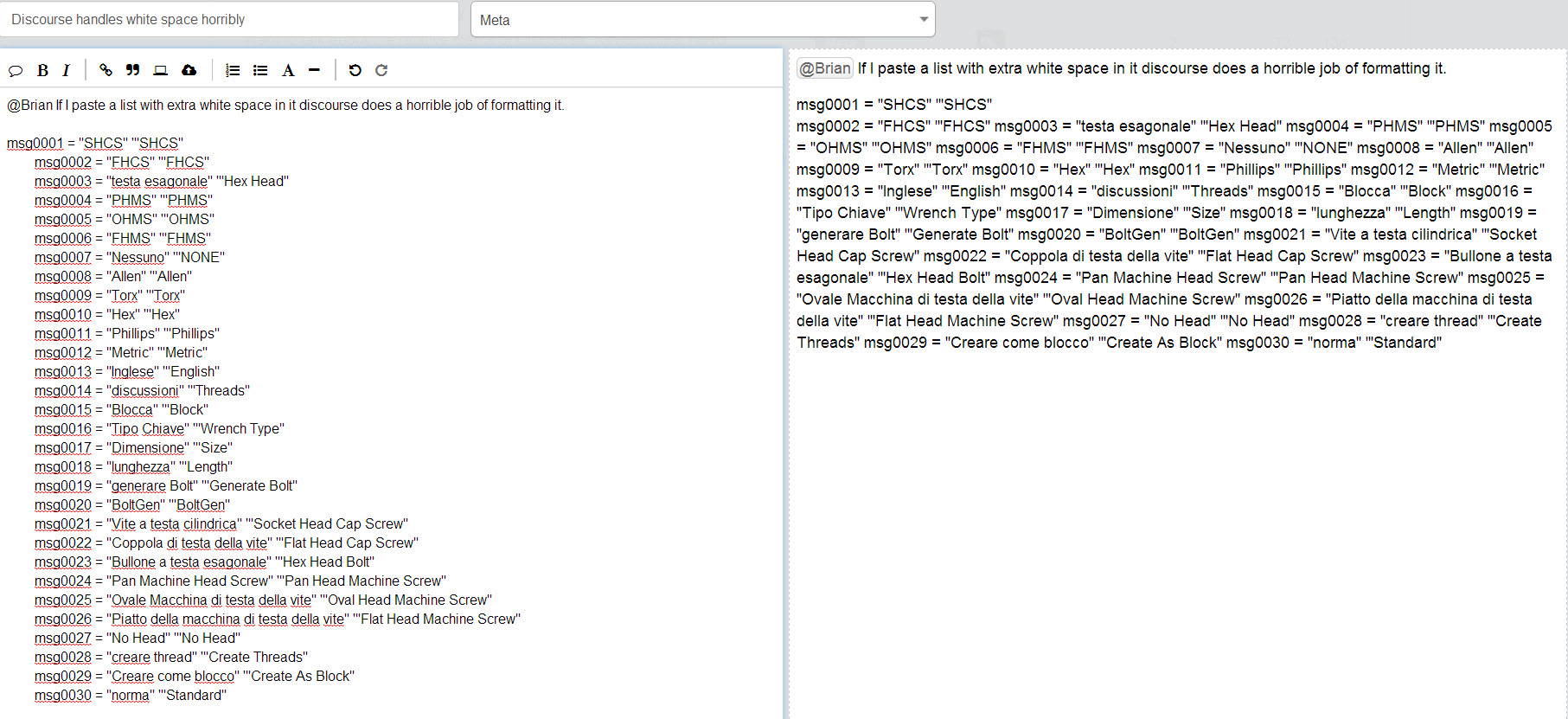 Yes, it is one of those apps that uses wiki-style formatting (the Rhino wiki is similar) and it ignores any more than a single space between words and the wiki ignores any extra carriage return line breaks you put in there to try to add white space between paragraphs for example.
I've noticed that discourse is particularly bad at handling carriage returns, sometimes they don't show up in the "WYSISWYG" box, and I have to put in two.
–Mitch
Then you get an extra line as well, yes I've noticed that too.
It appears to be related to the extra spaces you have at the start of each line. You can also use triple backticks surrounding your text to literally interpet what you've written.
Thus (extra spaces before b, c, d)
a=1
  b=2
  c=3
  d=4

renders as:
a=1
b=2
c=3
d=4
but (no spaces before lines)
a=1
b=2
c=3
d=4

renders as
a=1
b=2
c=3
d=4
Got it, I understand it is eliminating the white space, but why does it ignore the CRLF. I'm sure this is a discourse issue and not yours, but you probably know who to pass this along to already.
Discourse uses Markdown syntax:
http://daringfireball.net/projects/markdown/syntax#block
If you look at the section titled "Block Elements" you'll read:
A paragraph is simply one or more consecutive lines of text, separated by one or more blank lines. (A blank line is any line that looks like a blank line — a line containing nothing but spaces or tabs is considered blank.) Normal paragraphs should not be indented with spaces or tabs.
We do, but we also have the "visible carriage return produces a <br>" rule in effect as a default.
So this
looks like
multiple lines.
In regular markdown the above would render as
So this looks like multiple lines.
(note that some BBCode and 'safe' HTML are also supported.)