With the new SubD object in Rhino, selecting, transforming and editing parts of an object by adding/removing faces and new edges (let's call this "subediting") become fundamental parts of the modeling process. We are excited to study how subediting should work. While we are at it, it will be great if these methods will work at least also on meshes, and where applicable on polysurfaces.
The first part of this is to improve the selection mechanism so that it is intuitive and easy to access, is coherent between different object types and is as non-disruptive for existing users as possible. Of course, these goals are somehow conflicting.
So, we would like to know your opinion and improve our current selection toolset based on your experience, also with other programs. Let's start with what we have today around selection…
– History
In versions of Rhino preceding 5, there was a selection filter based on the command line. For example, after starting the _Trim command, one could use _crv shortcut to filter only curves. Some subobject types behaved like their geometry counterpart. For example, in certain commands one can use brep edges as curves.
In Rhino 5, in addition to what was there in Rhino 4, we have the selection filter dialog. This has the advantage of being more visual, and allows a similar workflow as the command line one.
In addition, it is possible to select subobject with a keyboard combination that is unknown to many users: the Ctrl+Shift combo. It can save a lot of time, but it has the disadvantage of precluding utilization of these two keys for other usages: only Alt is still available, for example for copying, and holding three keys down is not very easy on the hand.
In Rhino WIP, there is an Object/Subobject switch in the Selection filter toolbar.
– Proposals
Suggestions that we have gathered so far: (Note: none are really mutually exclusive and some can be improved)
1) Object/Subobject button for mode toggling
[Object] / [Subobject]
A button that switches between the two. It would be similar to the half-filled checkbox in the current Selection Filter in the WIP, but more visible, maybe on the status bar.
2) Object/Subobject keyboard key shortcut.
Rather than keeping Ctrl+Shift pressed, it could be possible to use a key combination to switch between the two selection methods.
This shortcut could even be the current Ctrl+Shift: as soon as it is pressed, it could toggle the button above(?)
3) A subobject selection MODE that is pickier:
[Objects] / [Faces] / [Edges] / [Vertices]
One keyboard key could switch between each. This might be visible on the status bar.
4) A Rhino toolbar to make current filters work like method 3:
If I click [Objects], then the current selection filter will pick whole objects and no subobjects.
If I pick [Faces], then subobjects are used with faces and remaining checkboxes are unchecked.
If I pick [Edges],then subobjects are used with edges and remaining checkboxes are unchecked.
…
The current toolbar instrumentation could be improved, and if checkboxes are aligned with the prescriptions of the table above, the button might look "pushed down".
5) Changing highlight color for subjection selection to a special color that is by default different than the one for whole objects. Maybe light green could work.
This would make it easier to recognize when a subobject is selected rather than a whole object.
6) With a modifier key available, we could add an option for "predictive" selection, that will be particular useful in SubD editing. For edges, it could work like this: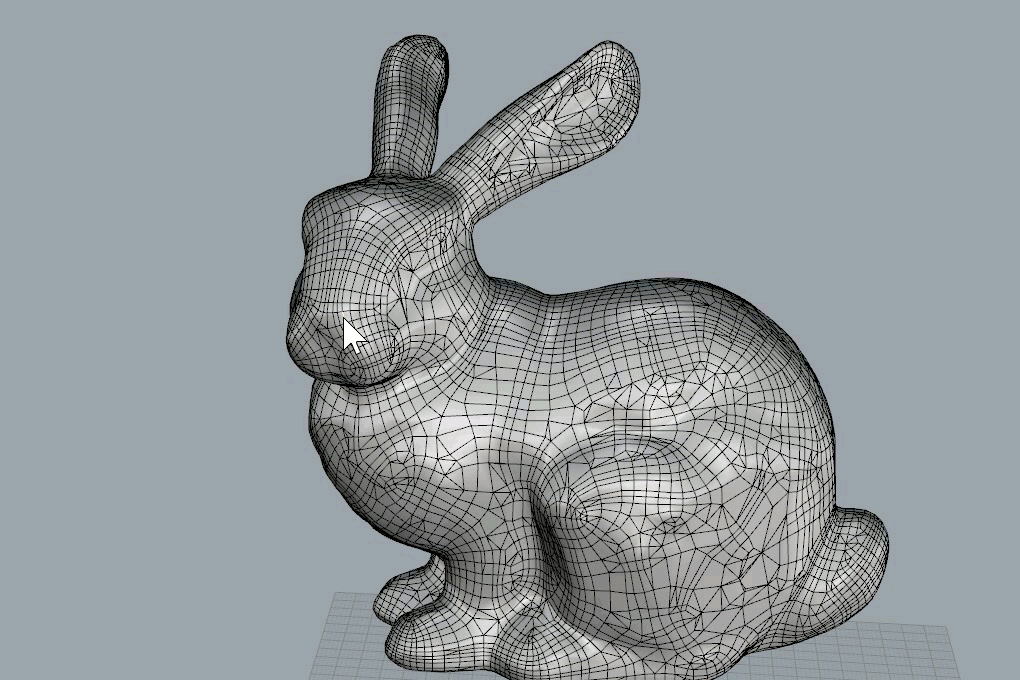 What do you think?
Do you think we need to explore other directions?
Given that you also know Rhino's philosophy, can you envision selection in other ways?