Rob|Arch 2014 will offer 8 workshops dealing with different aspects of robotic fabrication, including multi-robot cooperation, sensor feedback, an advanced design to production workflows. All workshops take place in parallel from the 14th to the 16th May. The results will be discussed at the conference - along with the scientific papers - on the 17th and 18th May.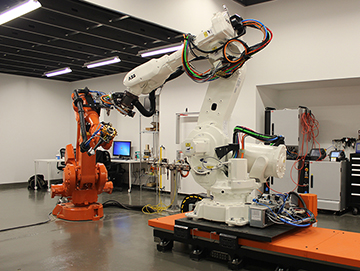 Featured workshops: ** **Princeton University & Greyshed Augmented Materiality ** **This workshop will demonstrate strategies for interactive and intuitive robot control during the design and fabrication processes. Rather than using the robot in isolation as a means for fabricating digital design, the robot acts as one of many mediators between the digital and physical world throughout the design process. Employing 3D scanning technologies in conjunction with user tracking, human interface devices, various sensors and augmented reality strategies, we are able to demonstrate multidirectional communication between the human designer, physical materials, computer simulation and robotic scanning/manipulation. The setup and tools will be used, experimented upon, and (ideally) modified by workshop participants.
Carnegie Mellon University All Bent Out: Adaptative Fabrication of Bent Wood Assemblies
All Bent Out… explores adaptive fabrication techniques for robotically constructing steam-bent wood assemblies. The workshop explores a constellation of hardware and software tools that leverage the material constraints of steam bending (e.g.springback,irregulargrain) as opportunities to develop adaptive fabrication workflows where predetermined machine tasks can be informed by sensor-based events. In particular, workflows using coordinated motion control of two industrial robots and environmental sensing help to negotiate discrepancies between intended, digitally modeled geometries and actual, physically bent wood assemblies.
---
Posted Apr 15, 2014 by Carlos Perez on Rhino News, etc.