Version 5 SR5 (5.5.30619.7565, 6/19/2013)
I keep getting this error message on every topic in the help file: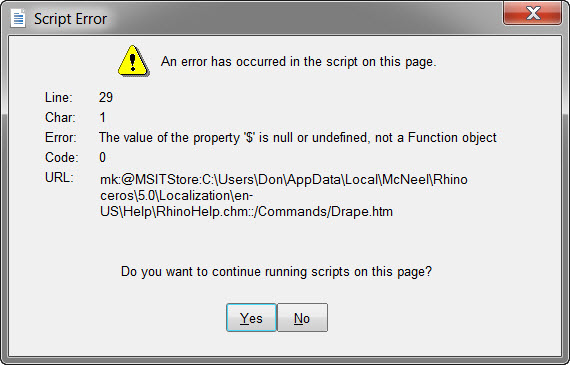 Hi Don,
I bet this is due to a missing Help installation. This can happen if you install Rhino from a service release versus a full installer like the actual disk or 1gb download. Try opening either of these archives and running the HelpMedia installer in the installer directory. If I'm right, I bet you don't have a materials library either. This is in the Language pack installer if you also need that.
No, he's definitely got a help file there. If the help file were missing, there'd be nothing to display a script error.
Did this just start happening Don?
Well I just tried to look something up in the help file, I guess you could say it just started, I don't use the help file very often.
I did a repair of the install and it seems to be working now.
Don
This seems to confirm my suspicion that these errors are caused by an incomplete or corrupted installation. There are two types of script errors that I have seen. One is like this and seems to be a bad installation. The other has the words "pixel left" in the message and that is a bug in the help itself that I need to fix on my end.
Thanks for letting us know about the fix, Don.
@margaret This is broken again with the latest SR candidate, repairing it did not work this time.
Weird. The sr candidate shouldn't even change the help file?! I'd love to look at your computer and try to understand the problem, but I'll be away from the office until the 15th.
Don, we are seeing this problem from a few other users. Can you take a capture of the whole help window including the error dialog? I want to see what your help window looks like.
@margaret I would love to, but today it won't do it. Really weird, I will try and figure out the steps that cause this. Last week I was trying to view some help files on surfaces.
Did you try the same command that gave you a problem. I see it was HideInDetail.
That is working too, really strange bug.
Well, let us know if it happens again. Another thread discusses a similar problem: The Help is unwell